After the dissolution of the Dutch studio LUST, founded in 1996, designer Michèle Champagne and editor Greg J. Smith reminded themselves, in an epistolary form, of the adventure of Jeroen Barendse, Thomas Castro and Dimitri Nieuwenhuizen. Combining initiated projects and commissions from major cultural institutions, LUST has covered the world with unique works combining digital and physical environments.
Michèle Champagne,
Montreal,
October 17th, 2017
It was only a few weeks ago that I read with sadness that LUST were opbreken. The closing of LUST triggered memories of Dimitri as well as distant memories of when I first encountered the studio. Here is an idea: let's write about LUST applications, exhibitions, installations, maps, publications, projections, videos, visualizations, websites, and workshops, no matter how big or small. The idea is not to survey everything, but rather to highlight the generative and media madness they brought to design, art, and architecture. Let's remember what LUST did and how they did it. Let's remember why we think that was important.
The moment I discovered LUST is still sharp in my memory and it was regarding something wonderfully banal—an iPad application for Items,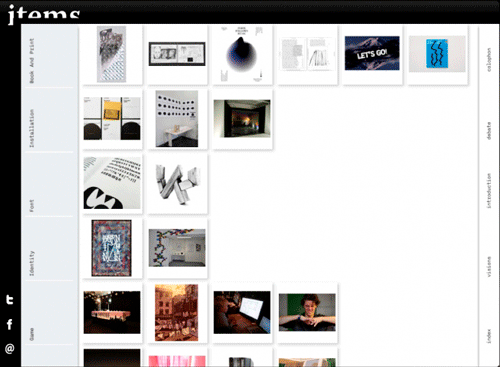 a lively and critical but now defunct Dutch design magazine edited by Max Bruinsma. The year was 2011. I was living in Amsterdam and had come down to Eindhoven for Dutch Design Week. Within the concrete cave of MU Artspace, Bruinsma unveiled Items' Dutch Design Graduates issue along with its inaugural iPad edition. 
Bruinsma and I had met through the Sandberg Instituut so he let me fiddle with his tablet after the launch. The application enabled readers to select, order, and reorder graduation projects by designer, school, discipline, or medium. The images were alive. The texts, however long or short, were curious and well-crafted. The typesetting was stark and plotted with Nitti, a quirky monospaced sans-serif inspired by 19th-century British Grotesques and laced with hints of typewriting. However expressive and eclectic the graduation projects may have been, the typography gave them an air of serious business. Nitti and its crisp typesetting were too interesting to be dismissed as merely austere: they were more like charismatic filing instruments that click and grind as gears spin and drawers pop. 
The Items application was a strict rendition of the now common card-based interface, but at the time, it was refreshing.33 Benedict Evans, "Twitter, Canvases and Cards," 18 June 2013: http://b-o.fr/evans It still is today. It lacked the trappings of most "digital magazines": you know what I mean—pages locked behind glossy little rectangles, organized according to old print sections and with similar layouts. Think of how widely Adobe's Digital Publishing Suite has been used to shape digital magazines as identical to their print siblings as possible.44 "Transforming the Magazine Experience with WIRED," http://b-o.fr/wired Nevertheless, LUST's iPad application was important because it introduced me to their other work. Once you've spotted LUST in the corner of your eye, they march onto center stage and there's a vast playlist to be getting on with. In time, I read up on Posterwall for the 21stCentury (2008–2012), RGB City (2009), Urban Echo (2010–2014), Type/Dynamics (2013), and Death in Venice (2014). 
The discovery hit home because I had worked with Mediamatic