The web and print pages of major papers are full of diagrams, maps, graphics, scatter graphs and schematics. Using an intricate series of signs, colors, text, pictograms and images, the aim of these visualizations is to provide the reader with a didactic approach to information. Since the early 2000s and the development of loading data into networks (big data and open data), the press has also adopted these new methods of expressing statistics.
The Advent of the Graphics Editor
The New York Times, an iconic pioneer in journalism that consistently seeks to propose innovative editorial formats to its readers, consequently decided to explore the technical possibilities offered by the Web. This American daily hired a production team dedicated to this activity, which resulted in the creation of new professions melding interactive and graphic design, statistic analysis, journalism and web development. Generally referred to as graphics editors (or visual journalists), this new professional field requires two skills to conceive these visualizations: an editorial capacity to analyze data, combined with the ability to convert it into a specific graphic representation.
In order to address the technical requirements intrinsic to the conception of these representations for the Web, some graphics editors were at the forefront of the development of software tools for design production. Mike Bostock, among others, designed the JavaScript library D3.js.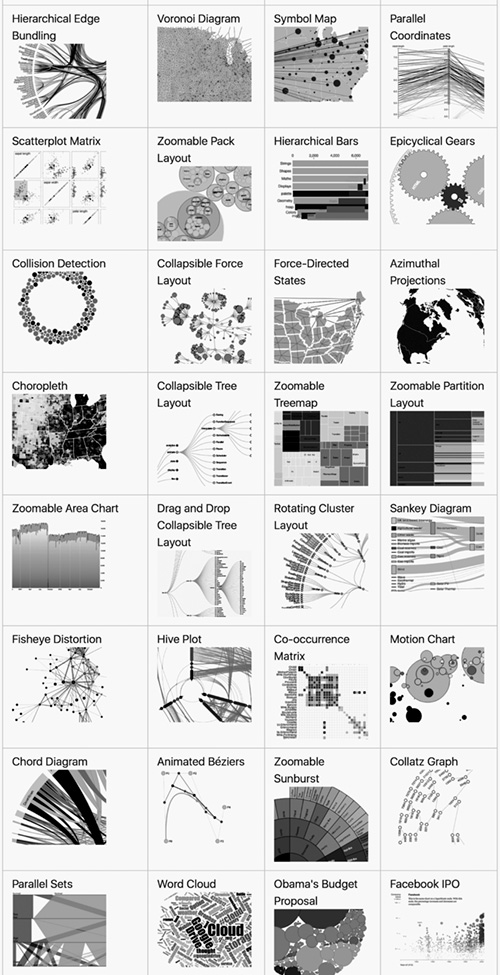 just before he began working for the New York Times. It enables the dynamic updating of an HTML page based on the data represented. Its excellent optimization makes a high level of reactivity with interactive graphics and effective management of animation possible. 
Bostock's creation of D3.js was an landmark event in this new field that gave birth to this renewed form of information visualization. Renowned statistician Edward Tufte went so far as to cite him as a key player in this domain. The variety of examples presented on D3js.org show the extent of its capacities: the zoom provides access to multiple layers of data; filters authorize the selection of subsets and the dynamic reorganization of information. The animation makes the representation of dynamic phenomena possible. These techniques of interaction and display enable the reader to access vast amounts of data. 
The Pitfalls of Quantification
Naturally, the production staff at the New York Times turned these technical developments to good account. From the mid-2000s on, the paper increasingly made use of exploratory information systems that enabled the user to wade through a dizzying amount of data sets. It might however be pertinent to question the approach of these new editorial models, which was mainly quantitative and not qualitative. 
In 2011, Kevin Quealy, then Graphics Editor at the New York Times, presented a selection of projects publ…