The treatment and representation of data requires a variety of skills, from visual conception and programming to statistics and interaction design. How can one transmit these diverse areas of expertise within the sphere of ever more specialized training programs? Sandra Chamaret and Loïc Horellou, teachers at the Haute École d'Arts du Rhin (HEAR), provide a panorama of singular pedagogical contexts intended to make students aware of the issues inherent in this pluridisciplinary field.
Schools and Archives
In 2017, Douglas Edric Stanley and Cassandre Poirier-Simon, two teachers of a course in algorithmic design at the Geneva School for Art and Design (HEAD) were leading, in conjunction with the Bodmer Lab (part of the University of Geneva), a workshop based upon the information holdings of the Bodmer Foundation. This institution holds a museum and a library made up of the private collection of the bibliophile Martin Bodmer (1899–1971). The holdings consist of over 150,000 documents (precious manuscripts, first editions, etc.). The objective of the one-week workshop is to experiment with novel uses of the holdings by using innovative work methods. Three students of the group11 Mathilde Buenerd, Nicolas Baldran and David Héritier. chose to work from a corpus of several hundred editions of Faust, written by Goethe in 1808.22 This famous story details the torment of Heinrich Faust, an erudite man of science who, at the end of his life, realizes that, even with all of his knowledge, a deeper understanding of the world still eludes him and he remains incapable of enjoying life. Consequently, he sells his soul to the Devil if he can manage to free him from his sense of profound dissatisfaction.
Their project, Ultimate Faust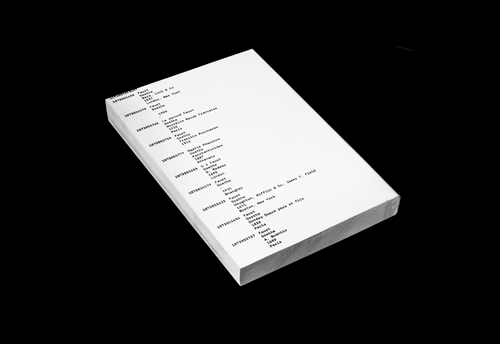 , consists of the creation of a program generator and a series of scripts (Photoshop and Processing) that enabled them to excerpt paratextual elements (notes, numbers, decoration, page format, even the artifacts of the scanners) from around twenty editions of Faust (in Urdu, German, or other languages where only the chapter numbers were preserved). The database, made up of an ensemble of very high definition images, are then merged in order to create a new hybrid publication that constitutes a unique element among all the possible multiples, compiling elements excerpted from the original editions, facsimiles in their original context (a detail from page twenty-eight of a source work would be imprinted in the same space as in page twenty-eight of the synthesized book). The project brings into play the notions of multiple and unique copies by creating a dialogue between various editions, throwing together eras, places, and languages and acting as a sort of mise en abyme of the utopia of universal knowledge. This unique book seeks to incarnate all the preceding editions of Faust and will consequently integra…