—How would you define television?
—Oh, it's just movable print!11 Stated in 1985–1986 to Alan Jones, as cited in "Télévision: une interview d'Andy Warhol," Art Press, 199, February 1995.
Andy Warhol
Fascinated by the coercive power of mass media, Andy Warhol never labored under the illusion that television could be anything other than an extension of the pictorial press. Initially broadcast over a public access New York cable station, then later on MTV, the series of programs he produced from 1979 to 1987 are moreover all creative offshoots of his magazine Interview, created in 1969.22 Fashion was aired from 1979–1980 on Manhattan Cable TV, Channel 10; Andy Warhol's TV, was broadcast over two seasons, from 1980 to 1983 on Manhattan Cable TV, Channel 10, then at Madison Square Garden; Andy Warhol's Fifteen Minutes was aired from 1985 to 1987 on MTV. For this Pop artist, it was less a matter of inventing a new mode of expression than blending in with the ultra-standardized world of TV. Magazines, fiction, soap operas, ads, news, reportage, clips, talkshows, variety shows: the program schedule leaves little place for creations that do not correspond to the codes of these highly formatted genres. Visual experiments that do not fall within the parameters of these codes are generally not welcomed on television, especially when they attack the integrity of the sacrosanct tenets of photorealism, the guarantor of the mainstream public's devotion to media spectacle. Nevertheless, until the 1990s, some breaches subsisted on the French audiovisual landscape into which creators could make their way, such as credits, themes, interludes or ads, all of which comprise what we refer to today as a format. Because they propose no content, initially these areas had been neglected by programmers before they were eventually locked into the promotional ideology, as visual identity became an increasingly important commercial issue for the networks.
The Question of Visual Identity
In 1974, the dismantling of the Office de Radiodiffusion-Télévision Française (ORTF) plunged French television networks into a competitive economy through the creation of three network television companies: TF1, Antenne 2 (A2) and France Régions 3 (FR3). As they sought to distinguish themselves from the competition, the networks began to think more than ever about their image. Their distinctiveness was of course predicated on programming choices, but also their format. This is why, as early as January 1975, Antenne 2 unveiled their new logo, created by painter Georges Mathieu, and began to run opening and closing credits designed by Jean-Michel Folon.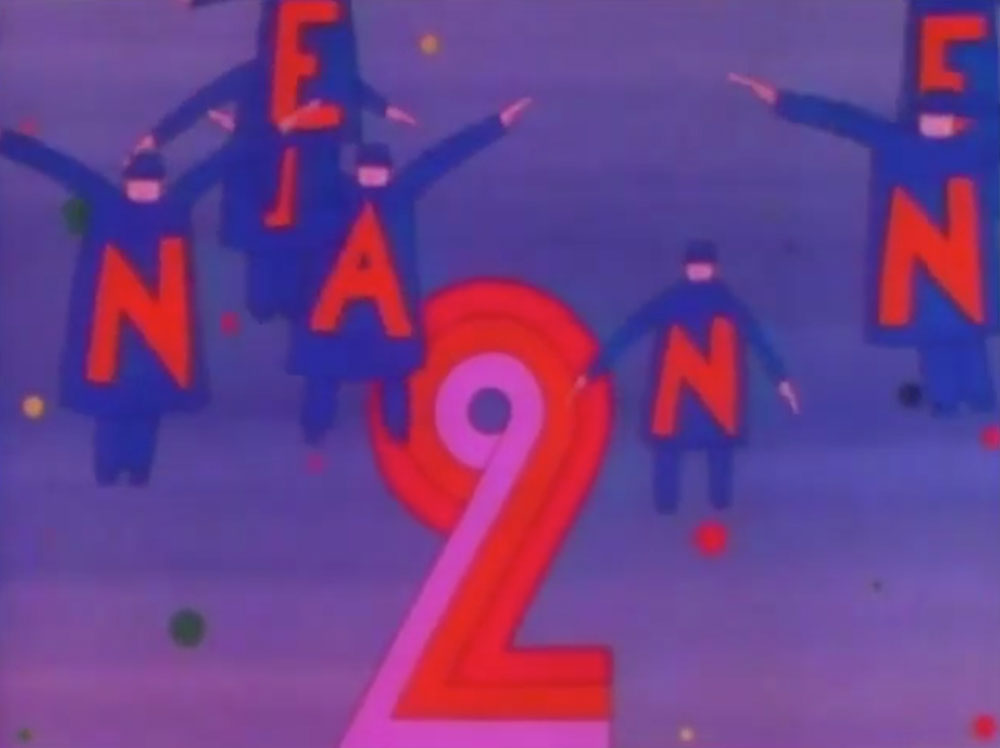 Suspended amidst the weightlessness of a blue sky dotted with multicolored dots, the flying men conceived by Folon enjoyed one advantage: unlike TF1, A2 broadcast in color.
Until 1983, FR3 only broadcast three or four hours of programming per day. Gérard Marinelli was commiss…